Teodora Andreeva (a.k.a. Andrea) is a bulgarian pop-folk singer. Born in Sofia in a musical family she takes music lessons from her aunt who is an opera singer in Vraca Opera. Soon after that in her teenage years she wins a bunch of beauty awards (Miss Sofia, Miss Tourism Bulgaria) but her true calling is music. As soon as she graduates high school she gets signed with the biggest bulgarian music agency – Payner Music, where she works on her professional career.
In 2008 Andrea meets Costi Ionita and together they produce their first balkan hit "Samo Moi". The song becomes a total hit in Bulgaria, Romania and Turkey.
During the next year they join forces and introduce themselves as an international duo.
During the next year they join forces and introduce themselves as an international duo – Sahara. Their first song (Tyalee) is released abroad by the name "Tyalee"(Izbiram teb) with Lenox Brown. The english version of the song is produced by Cat Music and soon after Serdar Ortac makes a turkish version with Sahara. The single gained worldwide
recognition in Europe, USA and mainly the Balkans.
Later Andrea releases her new balkanik single "Upotrebena" which became the most watched bulgarian video on YouTube ever with the staggering view count of 30 000 000 views.
Sahara releases another single called "Bellezza" with Buppy and Geo deSilva.
"Bellezza" (Moyata Poroda) was released in Romania, Bulgaria, Italy and France.
Sahara presents their english songs on every national romanian TV stations – Kanal D, Pro TV, Antena 1.
In 2010 Andrea releases a couple of balkan hits – "Neblagodaren" and "Haide opa". They carry huge success abroad with numerous cover versions in hebrew, serbian, albanian, croatian and great view count (12 000 000). for "Haide opa".
After her success in Europe, Sahara(Andrea and Costi) goes to Miami for her new project – "I wanna", where they perform with Bob Sinclar and Shaggy. The song is distributed by Yellow Production and Ministry of Sound Australia. The single climbs easily to the top charts of Belgium, Germany and Switzerland.
"I Wanna" is a confirmed international hit. From its release in 2010, it reached
over 50 countries from Europe, Asia, South and North America, Africa and Australia, like: France, Germany, Austria, Poland, Portugal, Belgium, The Netherlands, Monaco, USA, Canada, UK, Switzerland, Serbia, Russia, Ukraine, Israel, Turkey, Cyprus, Albania, Portugal, Brazil, Tunisia, Bulgaria, Romania and South Africa. As for the radios, it was no.6 on Fun Radio Belgium, no. 5 on Number 1 FM Top 40 Turkey and no.1 on Top 50 Radio 21 Romania.
The next international project of Sahara is called "Mine" where they perform with Mario Winans and it gets distributed by Warner Music Denmark.
Mine was one of the biggest international projects released in 2011. The song was released on Denmark, Belgium, France, Germany, Bulgaria, Italy and Romania. It entered directly on no.5 on Dance Fifty in Denmark and it stayed there for several weeks.
One of the biggest romanian celebrities Andrea Banica and Akcent define Andrea as the most famous bulgarian performer which made her a TV show host for 3 months on UTV(Romanian national television). Andrea's international projects always make it to discos, clubs and bars in the world.
Invitations from the "Turkiye Muzik Oduller" are presented to Andrea and Costi where they meet turkish music high life.
The next project she does is called "Champagne" where they sing with Shaggy
again. The track quickly becomes a smashing hit which morphed into a balkan hit on Mtv Spain, Russia and England. "I wanna" and "Champagne" become the most requested songs on fashion parties and on catwalks of Fashion TV.
"Champagne" a song distributed in over 20 countries from Europe, Asia, South and North America, Africa and Australia, reaching the most important tops in USA, Canada, Germany, Austria, Switzerland, Italy, Bulgaria , Romania, Germany, Belgium, France, Croatia, Israel, Turkey, Russia, Spain, Monaco, UK, Italy and South Africa. The song became the anthem of FTV parties in the year 2011 and it was played at the most important FTV parties worldwide. SAHARA had 2 concerts alongside Shaggy, where they performed the song CHAMPAGNE : the first one was in Club "Carre", in Belgium and the second one was in New York. CHAMPAGNE entered Radios tops like 1Dance.FM (USA), 100 Top FM (Israel), No.2 on Radio Vyzion (Turkey), Gotradio USA, Fun Radio Belgium, i93 USA, no.6 on VJ Pro Series Playlist, no.2 on Ultra Top Radio Belgium, Champagne Radio France, Radio 21 (Romania), Radio PRO FM (Romania), Radio KISS FM (Romania), Hit Parade Switzerland, but also MTV Russia and MTV Spain.
Right after that Andrea and Costi rock with another song called "I wonder why" which was released in Poland, Chile, Ecuador, Guyana, Mexico, Venezuela, Bulgaria and Romania.
In May 2012 she joins the biggest music company in Romania – Roton Music where she releases her duet with Gabriel Davi "Only You" and her own solo track "Hayetee" produced by Adrian Sina (Akcent).
Andrea graces the cover of the italian fashion magazine – "Donna Salon International".
In 2013 Andrea records a couple of songs in serbian which instantly become hits so she manages to make a serbian tour.
In April the British media "The Guardian" defined Andrea as the most worthy candidate for Eurovision Song Contest and says that she is the only one who manages to incorporate turkish and romanian rhythm in her music. They also say that her music entertains people all over the world because of her ethnic music and pop sound.
In 2014 Andrea releases her song with Alek Sandar "Peaceful Place". CNN also mentioned Andrea's duet with Alek Sandar on Planeta TV Awards because of their initiative and noble cause. They also state the fact that their performance encourages world peace, humanity, tolerance and are not afraid to turn their back on commercialism and stereotype. Right after their statement the song was aired on the station. Reuters gives exclusively the rights of the video clips edited in the music video because of the good cause.
In February Andrea releases her new song with Costi – "Chupa Song". Together
they promote the single on various TV and radio stations in Romania and release worldwide. The song is gaining worldwide recognition every day and it's expected to reach the most important tops in the next months. The song has a very simple dance line, which was conceived for those who like to synchronise when they dance it.
Andrea manages to succeed with her international endeavours and performed on her concerts in Belgium, New York, Istanbul, Cyprus, Amsterdam etc. Andrea's international projects always make it to discos, clubs and bars in the world. She also goes on a world tour where she performed her original show with own choreography and rocks people's hearts in her homeland Bulgaria. She performes on every big bulgarian concert. She is also the most viewed bulgarian musician online. Her total view count exceeds 100 million.
During the years she wins over 30 awards like "Balkan Star" on "Beogradski
Pobednik" in Belgrade, "European Performer of the Yea"r on "Kralevski Festival" in Kralevo Serbia, "Balkan Star" on "Montefolk Awards" in Montenegro. Andrea is awarded for her work by Daf Bama Music Awards in Germany for best Balkan Artist 2015.

In 2015 Andrea released her new single – Universal Love, where she collaborates with Edward Maya. It quickly becomes a hit a week after its release and it tops Greek, Romanian and Turkish radio charts. The largest music channel in Spain – Blancoynegro announces it the most successful collaboration and it reaches the biggest charts in New York – WBMP FM.
In the Late 2015 she released "Passion" – her international collaboration with the
Romanian pop star – Otilia, hit-maker Costi and world renowned rapper – Shaggy. The success of the single doesn't wait and it reaches 10 million views on YouTube quickly and it tops the biggest radio stations in Romania, Turkey, Belgium etc.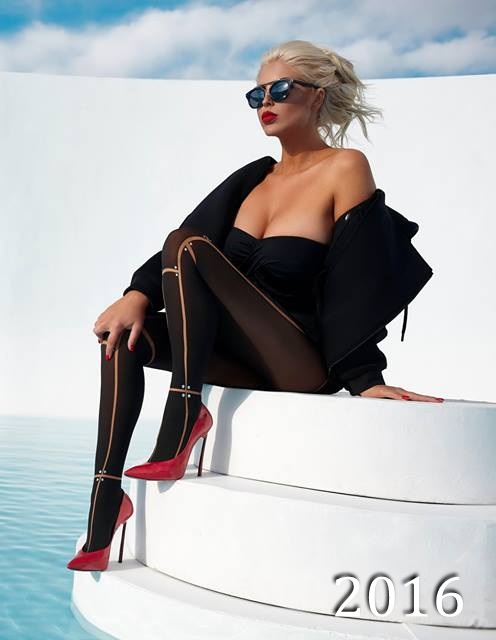 During the summer of 2016 Andrea releases her solo international track – Love is mine. The video was shot in Hollywood by a group of high end professionals.
On August 27 Andrea is awarded "Best Balkan Singer" and "Best Bulgarian Singer" at DAF BAMA Music Awards in Germany.